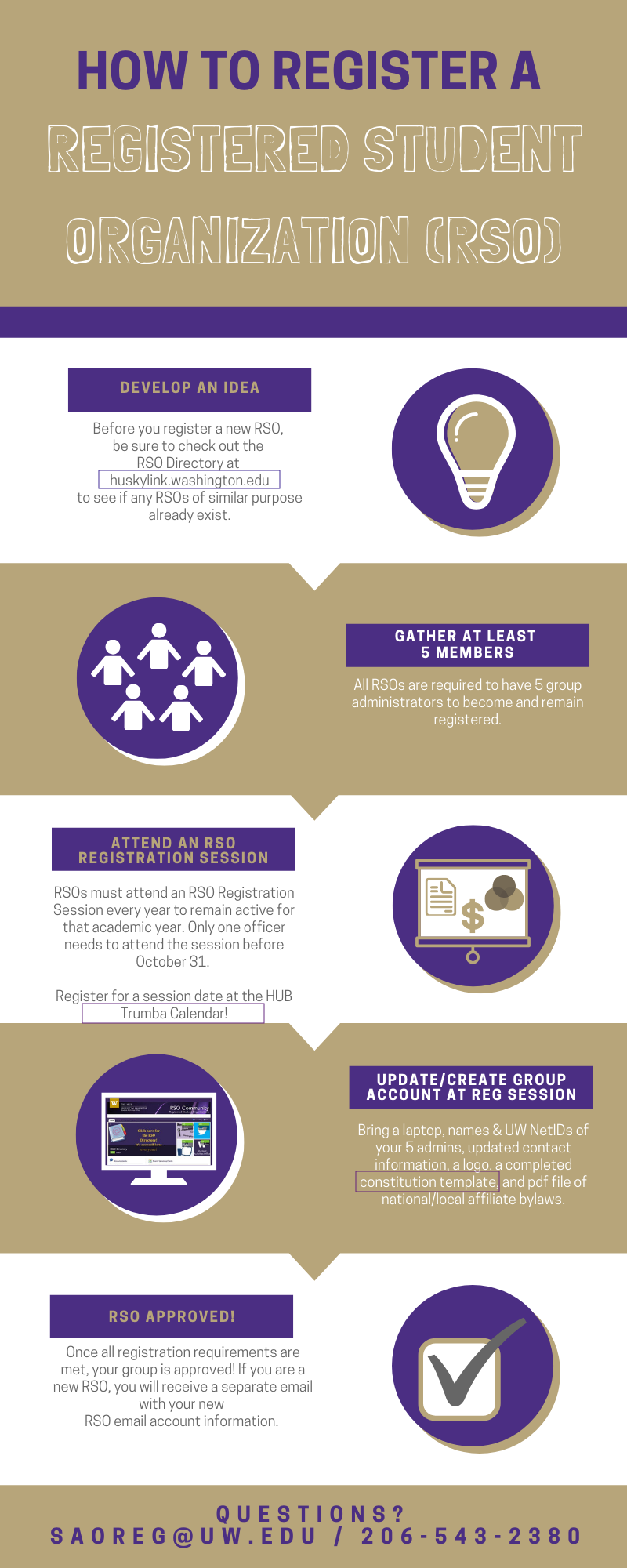 RSO Constitution Template
Please use this form for your constitution.
Find out more in our RSO Policy Guide.
2022-23 RSO Registration
Fall Quarter registration is closed. We will be holding more orientation sessions and reopening registration for new and reactivating student groups in Winter quarter on January 9, 17, 23 and 31 at 5:30 pm. Sign up in the HUB Trumba Calendar at the bottom of this page. The deadline to complete Winter Quarter Registration requirements will be February 3.
Orientation sessions will briefly cover benefits, resources, and responsibilities of student organizations, and then we'll spend time logged into HuskyLink, your RSO home, where you will learn initial login processes, introductory navigation, as well as update your individual student user accounts, and update/create RSO group accounts.
Please note
Creating new RSOs: Check with SAO to ensure there isn't an inactive account already for your group.
Reactivating an old RSO: To access your group account during registration, you must already be listed as the Primary Contact or a Group Administrator in the RSOs HuskyLink account. If you are not listed currently as either, one of the previous admins must either add you to the account, or email our office at saoreg@uw.edu with subject line REQUEST TO CHANGE OFFICER FOR (YOUR RSO NAME), and provide the name and UW netID of the person to add to the group account. SAO will be able to give you access to the account once we have written verification of a new admin for your rso. SAO will be able to give you access to the account once we have written verification of a new admin for your rso.All New and Reactivating RSOs must submit new RSO Constitutions and affiliate documents! Have the following information ready for updating/creating your group accounts:
Names and UW Net IDs of the other 4 group administrators
Phone and mailing address contact information for your RSO (this is not publicly shared)
Social media addresses for your RSO
A logo or icon for your RSO
A completed RSO Constitution Form for upload that can be found HERE, under the RSO Constitution Template header
A current copy (dated within last 3 years) of your off-campus local, state, or national affiliate organization's bylaws/constitution for upload, or a signed and dated letter on letterhead from their official representative verifying your chapter/affiliation status.
If you have any questions, or need more information, feel free to contact us at saoreg@uw.edu.
---
HUB Trumba Calendar
---
Updated: December 6, 2022
Contact SAO regarding the content on this page.