SAO understands the rewards and challenges that take place when leading an RSO. In order to support student leaders, SAO provides numerous in-person trainings and virtual resources for students to learn more about their own leadership, how to lead a team, and other various leadership topics. If you have any questions or want to learn more about leadership and training, please contact us at sao@uw.edu.
Leading With Values
It's important to know your values as a leader. Use the activity sheet below to explore your leadership values. This activity can be done for individuals or as a group. Consider doing this with your officers or as a whole RSO.
"Knowing what we value most in our work, relationships, and other commitments makes it easier to respond to opportunities and conflicts with integrity. The Value Sort is an excellent way to reflect upon what is most important to you personally and it is also a great way to stimulate conversations with peers, colleagues and family members."
– thegoodproject.co
Leadership Styles
Servant Leadership: https://westsidetoastmasters.com/resources/inner_leadership/ch13.html
Community Guidelines & Expectations
New to managing a group of peers? A great way to build team unity is to create community guidelines and expectations. Not only does it help you lead your organization, it helps all members know what they can expect when joining your RSO.
Building community guidelines are simple. During a meeting with your members, write down the different responses for all to see. This can be done virtually or in person on a dry erase board.
Things to consider:
This should be a fully democratic process – make sure everyone has time to add their thoughts and opinions.
Break guidelines into broader categories. What are your expectations to be a member? What guidelines do you have around team communications?
This activity can be done for different teams. Having clear expectations for your officers is just as important as having them for your RSO as a whole.
Make sure to write them down and keep them available for all to view throughout the year. This is tool to bring back up when you need to have a conversation with members who break guidelines and expectations.
Importance of Community Guidelines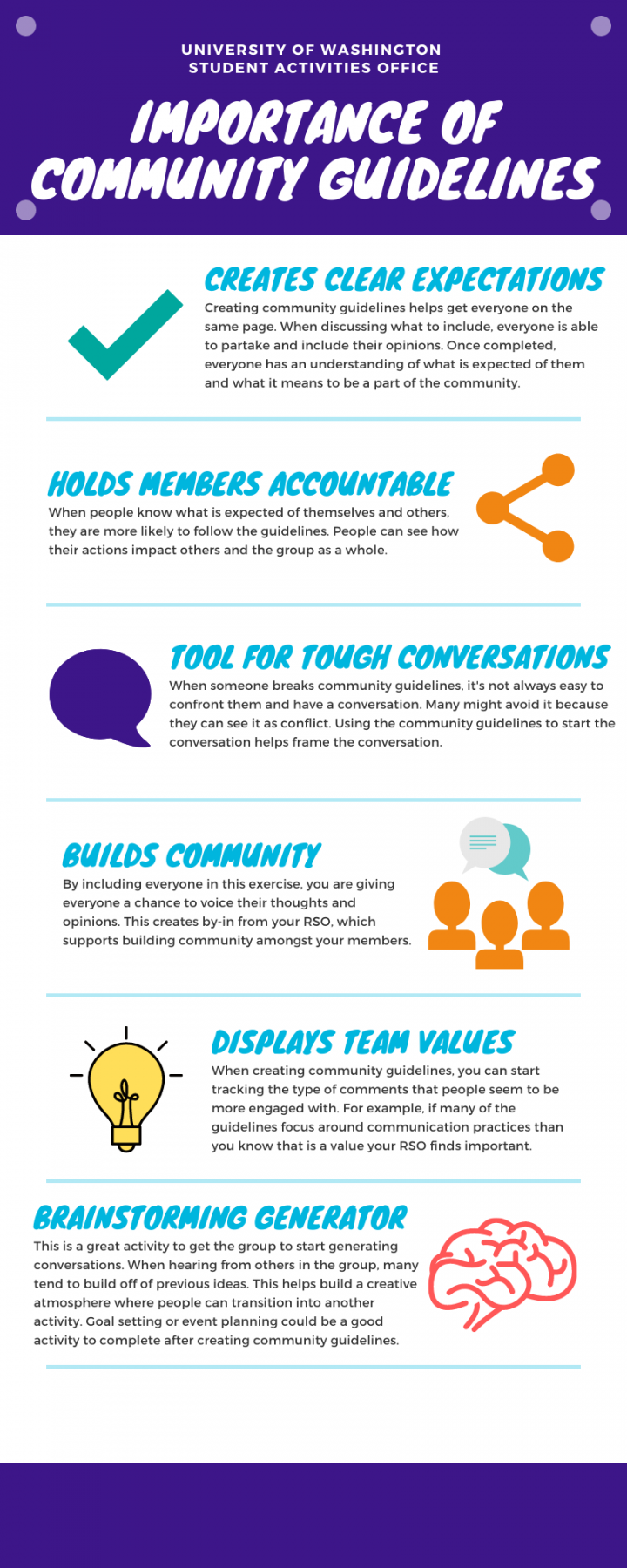 Example of Community Guidelines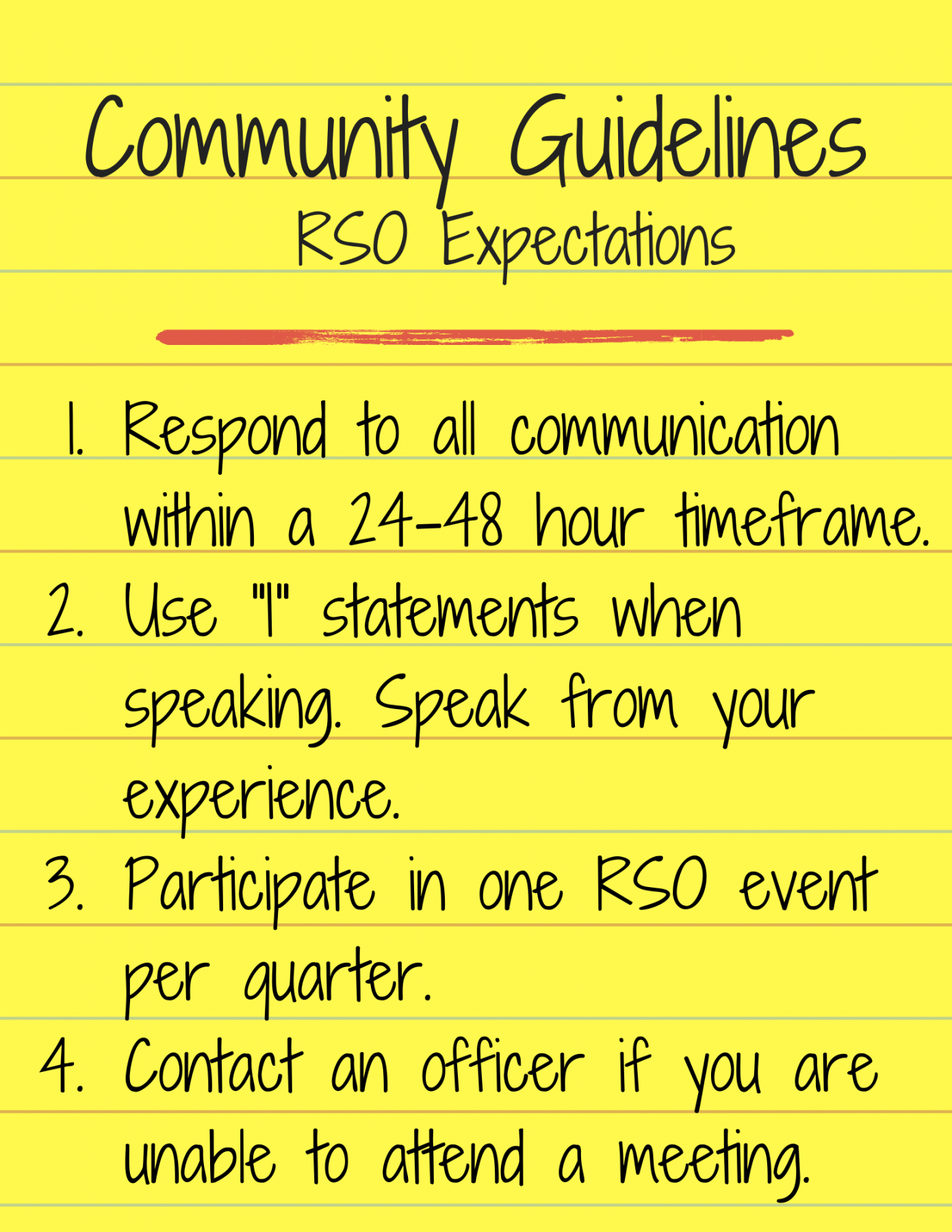 Goal Setting
Goal setting is a cornerstone for any leadership role. It is important to reflect upon things that you want to achieve by participating in an RSO. Use the following SMART goal worksheet in order to create obtainable goals.
Things to consider:
Consider completing the values and expectations activities before goals.
Values + Expectation = leads to goals.
SMART goals can be completed for individuals, officers, and RSO's as a whole.
Keep them where they can be visible for all members. This helps keep everyone accountable.
Take time to revisit and reassess goals throughout the year.
SMART Goals Example Worksheet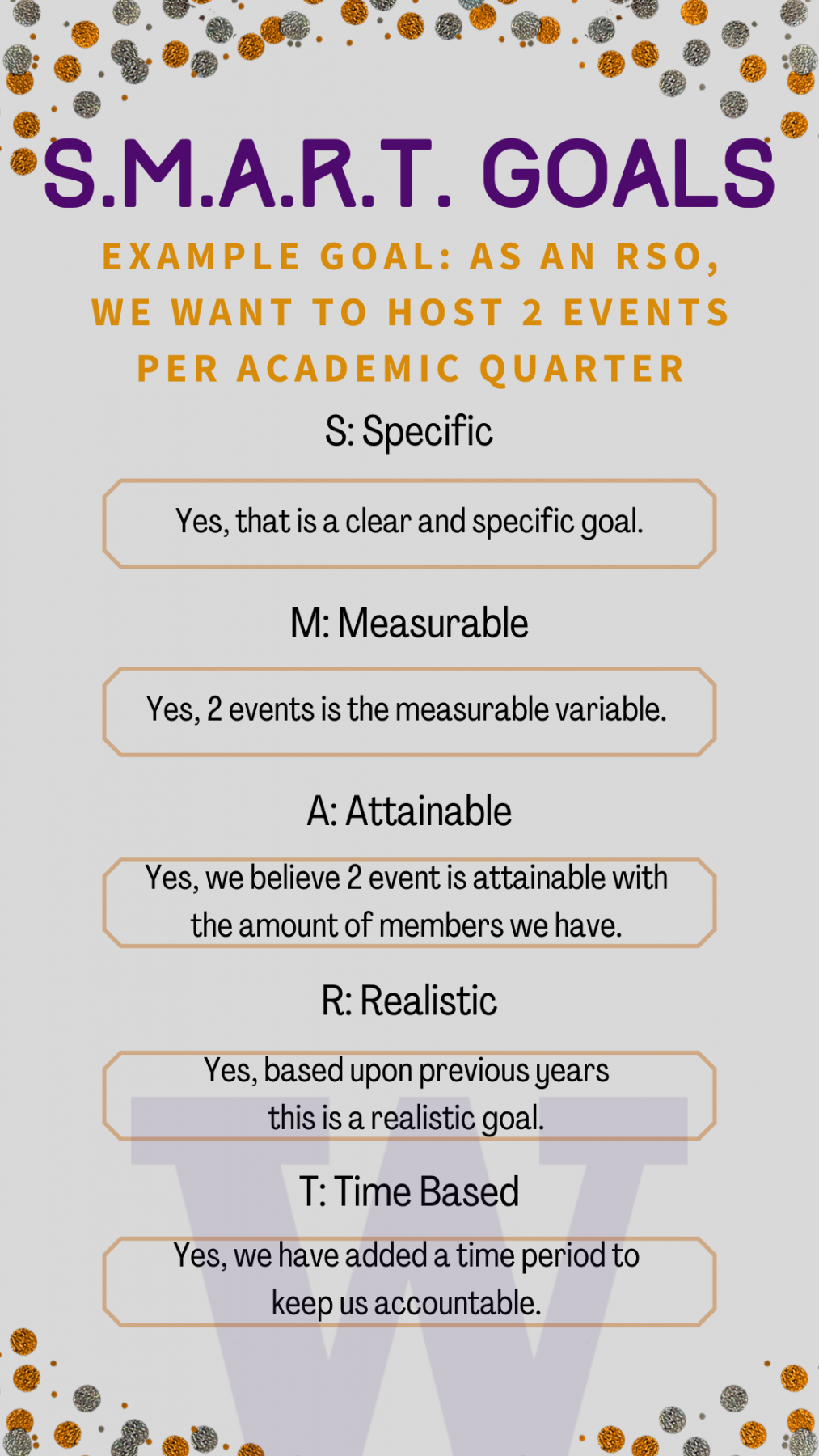 Conflict Management
Conflict is a natural part of working with others. While we do our best to prevent it from happening, it is important to know what conflict looks like and how to potentially approach or avoid the situation.
How to Respond to Conflict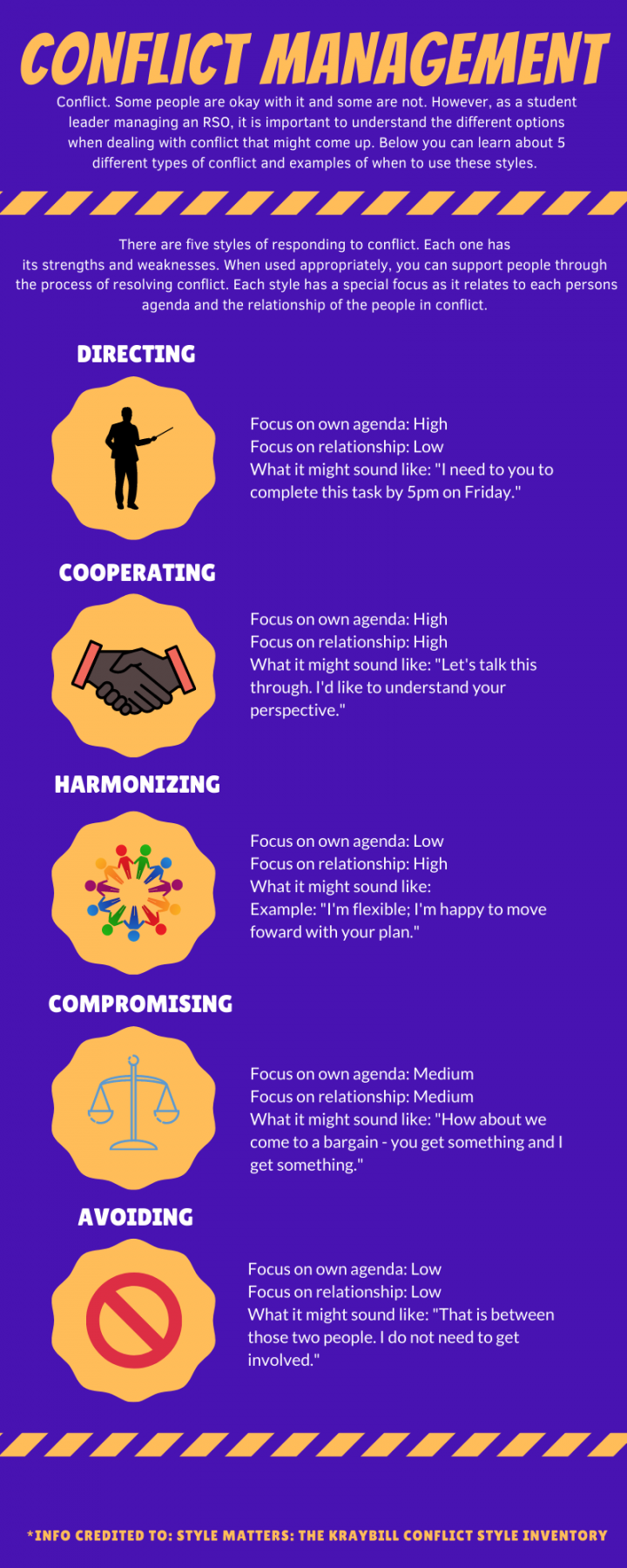 10 Tips to Manage Conflict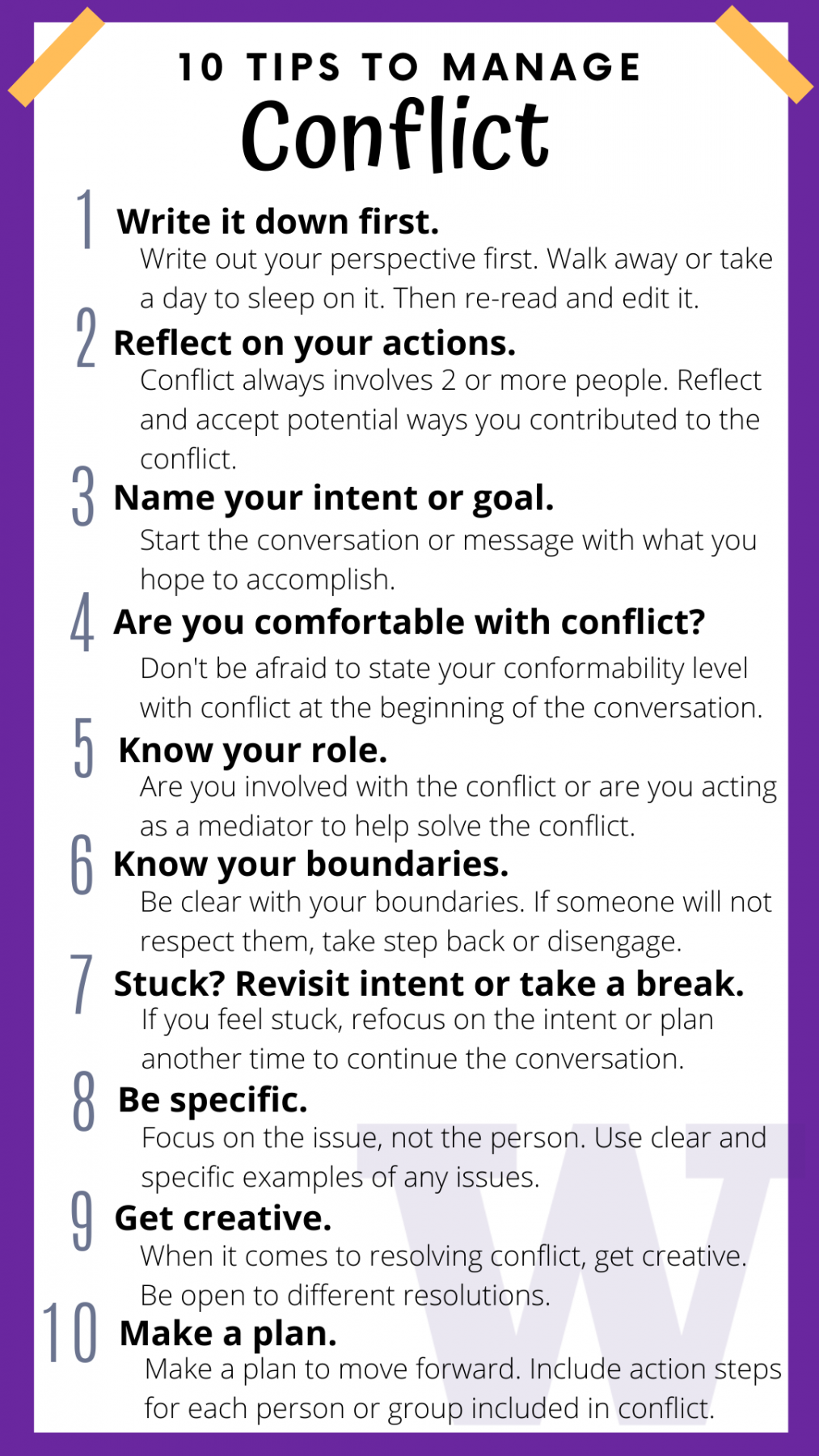 Event Planning
Officer Transition Training
Parliamentary Procedures
Parliamentary Procedures for Student Leaders: https://davegonzokelly.com/programs/parliamentary-procedure-student-leaders/