A limited number of gaming pc's will be available, by reservation, to members of the UW community for Winter Quarter 2021, once COVID restrictions are lifted.  Please visit the FAQ's page for more info.
Reserve a gaming pc now via the reservations form, or by calling 206.543.5975.
UW Esports
UofWAesports is excited by our team's performance in 2020-21.  Our UW League Of Legends, Overwatch and Rocket League teams are showcasing their talents weekly.  Follow the fun:
📺 Twitch.tv and YouTube
👀 Twitter at UofWAEsports
🎮 Discord via UW Esports 

UW Esports  &  Pac-U Esports
UofWAesports is excited to announce our membership in the Pac-U! The Pac-U is a coalition of PAC-12 schools bringing competitive esport experiences to students and fans around the PAC-12. More info at http://pacugaming.com.
📆 Valorant, Rocket League and Smash teams will be showcasing their talents on http://Twitch.tv/pacugaming and http://Twitch.tv/uofwaesports starting in late February through mid-April.
UW Esports  vs WSU Esports
🍎ESPORTS APPLE CUP. January 29 and 30.🍎
📅 Check out the full schedule below (and get involved).
📢Please spread the word in your communities!
📺 Support the #Dawgs.  Watch on twitch.tv/uofwaesports
To stay updated and participate in, or support, community events,
join the Apple Cup Discord here! discord.gg/g5Uy9HZc8z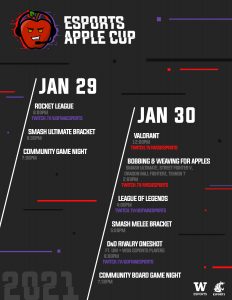 Are you a serious gamer?  Are you looking for a tryout?
Are you a UW student (or incoming student) who plays Rocket League, Overwatch or League of Legends?  Are you looking to try out for our official UW teams?  If so, please visit the UW Esports Discord and fill out the tryout forms in the #Recruitment channel at https://discord.gg/daHhzD5G53.  Good luck and Go Dawgs!
Play Where The UW's Teams Practice
The HUB Esports Arena & Gaming Lounge is a 1,000 square-foot full-service gaming center with 39 high-end gaming computers supporting casual and competitive gaming and virtual reality. It serves as the nerve-center and nexus between student communities, interactive media partners, and gaming culture.
Gaming Rates
| | 1 hour | 10 hours |
| --- | --- | --- |
| UW Students | $3.50 | $30 |
| UW Faculty/Staff | $4.50 | $40 |
| General | $6.00 | – |
Virtual Reality Rates
| | 1 hour |
| --- | --- |
| UW Students | $10.50 |
| UW Faculty/Staff | $13.50 |
| General | $18.00 |
PC Gaming User Accounts
Note: all gaming customers will need to create a HUB Games ggLeap account and pre-purchase gaming hours.  All hours purchased need not be used at once and will remain in the gamers' account indefinitely.  Please see the HUB Games front counter to create a HUB Games ggLeap account, to add hours to your account, or to check out a gaming headset.
Note: please be mindful of your username as it will show up on our leaderboards for other guests to see.
Gaming Licenses
Many pc games are free to play with no license required (Fortnite, Apex Legends, etc).  HUB Games provides limited licences for games like Minecraft, Rainbow Six Siege, etc.  In addition, gamers my log into their own gaming accounts (launchers Steam, Origin and Epic) to play games they have personally purchased.
Virtual Reality
HUB Games uses the HTC VIVE Pro headsets.  Our two VR stations are by reservation only and guests must reserve both stations.  
VR Games include: Beat Saber, Blueshift, Space Junkies, Thrill Rollercoasters, and Keep Talking and Nobody Explodes.
HUB Games hosts FREE Learn to Play Workshops
Workshops are hosted for game-play learning and to build the HUB's first Esports Pillar of Community.  The schedule of upcoming Workshops can be found on our events page here.
UW Esports Pillars
Community
Fostering relationships through a shared passion for gaming and driving a culture of equity, inclusion, and peer health
Career
Academic integration and co-curricular experience that un-tethers learning from the classroom and creates a career development pipeline
Competition
Cultivating the next generation of competitive gamers and developing a gaming brand through esports excellence
The Esports Arena & Gaming Lounge is partially funded by the Student Technology Fee.