The HUB
HUB Highlight: Revolution & Evolution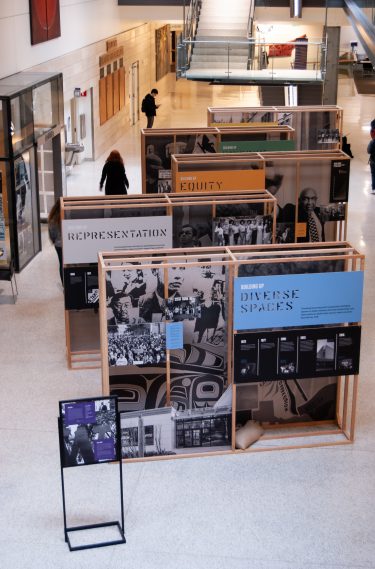 In honor of the the Office of Minority Affairs & Diversity's (OMA&D) 50th anniversary, the HUB is currently showcasing Revolution & Evolution, a historical exhibit reflecting the resilient voices and actions taken by the Black Student Union. In 1968, the OMA&D emerged as a direct result of a BSU sit-in that challenged the mistreatment of minorities and advocated for equal representation and inclusion at the University of Washington. Since its establishment, the OMA&D has worked to increase the number of minority, low-income, and first-generation students on campus and support them in their academic and professional pursuits.
Stationed in the HUB Street throughout Winter Quarter, Revolution and Evolution embodies existing educational barriers that reflect the five demands issued by the BSU fifty years ago. In partnering with UW Professor Kristine Matthew's design studio, Studio Matthews, as well as Professor Matthew's Design 465: Exhibition and Installation Design class, the OMA&D has successfully cultivated awareness and conversation regarding diversity, equity, and community.
By acknowledging past hurdles and subsequent triumphs, the OMA&D hopes to instill faith in UW students' ability to overcome hardship by embracing their strengths. In working together to build an inclusive and compassionate community, students will find the support they need in order to succeed and feel fulfilled.