The HUB
Event Feature: Virtual RSO Fairs
This winter, the HUB hosted its first Virtual RSO Fair using the Gather platform, which utilizes proximity video chat. It's a bit like playing a video game with character icons and imagery, but as you approach other avatars, you're able to chat using voice and video. On the day of the fair, RSO representatives staffed their booths in the virtual HUB, working to promote their organizations, events, and meet new students interested in getting involved.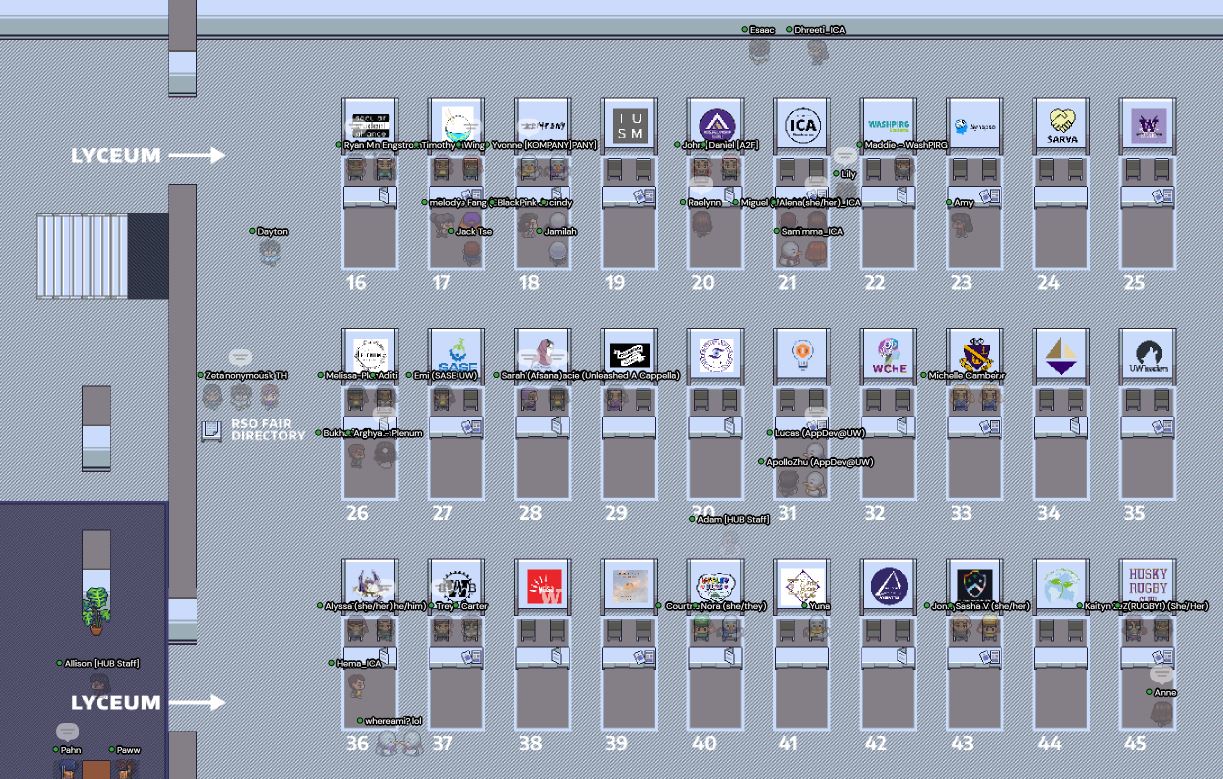 Bernice Larson, a HUB Programming and Events Intern, took on the task of coordinating and developing the Virtual RSO Fair in collaboration with the Student Activities Office and the Resource Center. She explained, "The main goal was to provide an opportunity for students and RSOs to stay connected. We've all experienced varying levels of isolation in the past year or so, and RSOs are a major source of community for many students, myself included. I know how tough it's been to keep a student organization engaged in a virtual landscape, and these fairs were an effort to maintain a sense of student community at the University."
With over 40 RSOs in attendance, students and staff were excited to have the opportunity to connect with one another in an unconventional way. Larson shared, "The highlight of the event for me was walking around and talking to all the RSO representatives. I'm in RSO leadership myself, so it was fun to exchange ideas for how to keep students engaged in a virtual world. There was also an air of excitement and positivity. Everyone was happy to participate in something that felt a little closer to an in-person event."
The first Virtual RSO Fair was such a hit, the HUB team developed four additional special interest RSO fairs over the course of spring quarter, with 112 RSOs and over 300 students participating in fairs for cultural and international, academic, and health and recreation focused RSOs. While we all miss the hustle and bustle of the Red Square RSO fairs, the HUB's transition to Virtual RSO Fairs has been a great alternative, offering a sense of normalcy in our online world.