The HUB
Alumni Spotlight: Dr. Darlene Marie "Daya" Mortel Edouard, 2002-03 ASUW Director of Programming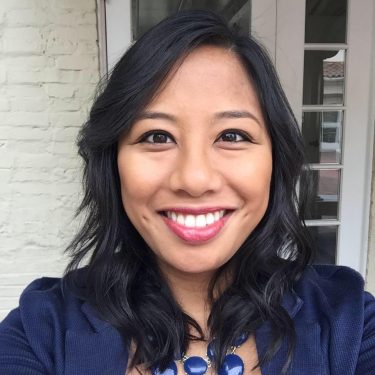 What was your most memorable UW class? Why?
Oh so many! Generally, I'd say it was any and every class I took in American Ethnic Studies. Not only did I learn so much, I met some of the most wonderful people. But I'd say it would be Asian American Studies 360, Filipino American History and Culture with Dr. Rick Bonus. I learned about the history of me, of Filipinos in America, for the first time. The way the class was taught showed me that learning can be open, engaging, and fun. Dr. Bonus became not only a mentor but a lifelong friend. He wasn't just there academically, but supported me and all his students outside of the classroom as well. I still keep in touch with him and it's been 20 years since I first took that class. That class led to everything wonderful that happened at UW. It was because of Dr. Bonus that I went on to earn my Ph.D.
Who is your hero? Why?
Frontline workers. I have friends and family who are nurses and doctors and while I hope for their safety, I am humbled and honored by their service to care for those who are sick day in and day out. On a deeper level, my heroes are also those who fight for a more just world. I have worked alongside and with some of the most amazing people who endeavor to dream and take action in creating a world where they don't fear for their lives. Where they can see themselves in the media. Where they dare to hope. In the United States, in the Philippines, around the world. Representation matters. Our voices matter. Our lives matter.
What would be your go-to karaoke song?
Let me just start and say there isn't a karaoke mic that I don't love. That said, I'm definitely not a good singer. But I'll always sing Bon Jovi's Livin' on a Prayer, I Wanna Dance with Somebody by Whitney Houston, and anything by TLC. I will never deny a good 90s R&B song!
What is your favorite Husky tradition?
I would have to say the Dawg Daze Student Activities Fair. I love those two days when all the student organizations table in Red Square! You see the vibrancy of student life all in one place. There are restaurants from around Seattle that come to serve food and they were always so, so, so good! New students roaming and learning about everything UW has to offer. Current students gathering to greet each other after a summer apart. It really is one of the best times because the excitement of being a Husky is at an all time high!
What has been your favorite memory of the HUB?
So many! So so so many! Like the Ethnic Cultural Center, it was a place of joy for me. There was the time a bunch of us on ASUW sang "Islands in the Stream" from the top of our lungs on top of our desks, or grabbing lunch downstairs with friends and laughing for hours, or freestyle battles outside, or getting together with other students to plan events, or those nights I stayed late to work on something and held wonderful conversations with the janitorial staff. I spent so much time at the HUB there really isn't one memory. It's a collection of memories that remind me of my pride in being a Husky.