The HUB
Pasifik Voices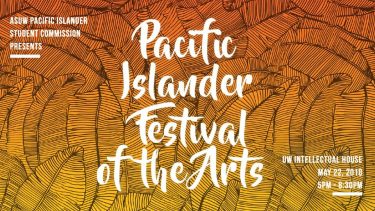 A few months ago, the ASUW Pacific Islander Student Commission began preparation for their quarterly event that occurred on January 31st, Pasifik Voices. This event was founded in 2009 by Kiana Fuega and Christina Pelesasa with the intention to provide a public space for Pasifik poet Sia Figel to present her work to the UW community. When the Pacific Islander Student Commission noticed the positive reaction from students at UW, they opened up the floor to all students willing to present their talents through music, art, spoken word, dance and much more. This event, both then and now, celebrates the diversity of Pasifik Islander representation throughout our campus and the surrounding area, and aims connect this passionate community of students and the wider UW population through a night of cultural expression.
Since the Pacific Islander Student Commission consists of a variety of clubs, there was a significant amount of representation for all corners of campus. The Polynesian Student Alliance and Micronesian Islands Club were the master of ceremonies for the event, and the performers represented the Hui Hoaloha 'Ulana (Hawaii Club), Filipino American Student Association, and the Filipino Association for Health Careers, just to name a few. To make the event more accessible, community member Lokeni Tiatia volunteered her time to provide an ASL interpretation. Katrina S. Punzalan, Pacific Islander Student Commission Director shared, "People don't always understand who Pacific Islanders are, so we hope that this event could allow the community to express themselves accurately so that the UW community can have a better understanding and gear away from any stereotypes that may exist." The sense of community in the room was also very exciting for Punzalan, as this year even more individuals on campus could experience the talents of the Pacific Islander community.
This Spring, in place of Pasifik Voices, the Pacific Islander Student Commission hosted the Pacific Islander Festival of the Arts at the Intellectual House. The festival showcased community artists, both visual and performance, in an effort to highlight the vast Pacific Islander art and presence in the community inside and outside the UW.