The HUB
Una Mirada a la Muerte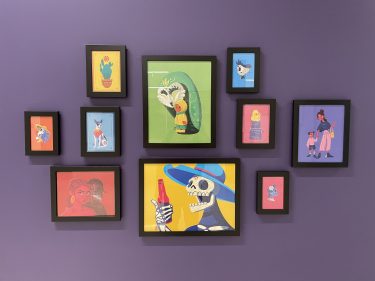 HUB Director's Art Award Recipient
Artist/s: Neylan McCormick
Description: My digital paintings capture the essence of Dia de Muertos with vibrant colors and themes that reflect my Mexican heritage. These works are reflective of family photos displayed in photo galleries or on the walls of people's homes to convey a positive and cordial view of death and its inevitability.
Through my work, I offer a more approachable view of death by challenging the conventional perception of it as a fearful and terrifying concept. By exploring this theme, I create a sense of connection and shared experience between audience members and my art, encouraging viewers to reflect on their own experiences with loss and grief.
Ultimately, my goal is to create a space for dialogue and understanding surrounding death, and to highlight the beauty and importance of remembering the lives of those who have passed. These digital paintings serve as a reflection of the approach towards death that is a celebration of life and the Latin American cultures which have molded me. They are a reminder that it does not have to strictly be a somber and negative experience. We can carry on those that have passed on within our hearts and memories as we continue to make our mark among loved ones, just as those we have lost made on us.
Composition/materials: Digital prints
Year: 2023