Located adjacent to the Silver Cloud Hotel, University Village (U Village to locals; U Vill to students) is Seattle's only outdoor lifestyle shopping center, where you will find a unique mix of locally-owned boutiques, signature fashion and home-furnishing retailers, and a distinct collection of restaurants and eateries.
University Village's many restaurants range from casual outdoor dining to date night, and include local favorites such as Elemental Wood Fired Pizza and internationally renowned cuisine at Din Tai Fung. University Village is also home to the second-ever Starbucks Coffee location, which opened in 1972, and the oldest family-owned drugstore in the nation, Bartell Drugs.
2623 NE University Village St
Seattle, WA 98105
Monday-Saturday: 9:30am – 9pm
Sunday: 11am – 6pm
Shops and Restaurants Directory
Spanning nearly 19 miles between Seattle and Bothell, the Burke-Gilman Trail is as much a thoroughfare for commuting to work and the University of Washington as it is a staple for social recreation and fitness. The trail, lined with local flora, make this a special experience in our region.
Built in the 1970s, the trail was among the first rail-trails in the country and helped inspire dozens of similar projects around the nation. This multi-use recreational trail is part of the King County Regional Trail System and occupies an abandoned Seattle, Lake Shore and Eastern Railway corridor. Great trail for running, biking, or taking a leisure walk – and conveniently located for easy access to the University Village!
Heading Right will take you along the trail to the University Village, Burke Gilman Brewing, French Bistro Shirlee, Great State Burger, all within a short distance right off the trail. Heading left will take you directly to the University (with a little bit of an uphill climb to the HUB).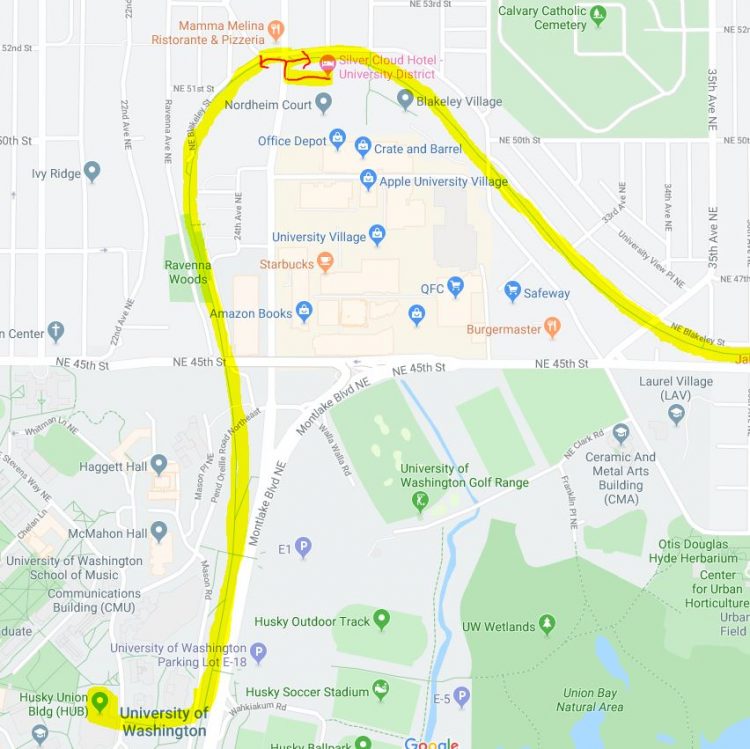 Learn more about the Burke Gilman Trail history!