What is the Photoboxx Printer?
The Photoboxx Printer enables you to create engagement during your event by turning guests mobile devices into a photo booth. The Photoboxx Printer is a fun way to encourage attendees to take photos at your event, share them on social media, and take home something to remember their experience.
How does it work?
It's all about the printed photo! The Photoboxx Printer can be set to photo booth or social media mode. Photo booth mode generates a QR code that attendees can scan from their devices and upload photos to print. Social media mode monitors a chosen hashtag and instantly prints from public accounts that include the hashtag.
Step 1: Check availability and reserve
What are the reservations requirements and conditions?
Reservations: Must be submitted via HUB EMS at least 5 business days (Mon-Fri) in advance. Select the furnishing option in the EMS Availability Check form.
Location: The event must be held within the HUB premises (Ballroom, Lyceum, Street, meeting rooms, or lawn).
Power & Internet: The printer requires a power supply and internet access (WiFi or Ethernet).
Taping: Materials and posters may not be mounted on the printer.
Step 2: Print artwork requirements
The prints are 4″x6″ in size. A portion of this area, the "footer graphic," is customizable to fit your brand and/or theme. Add colors, graphic(s), and/or logo(s). There is no limit to the design in this area, the only limitation is size.
If you'd prefer not to create your own footer graphic, you can use one of our premade UW templates.
How do I create footer graphics?
Footer graphics are primarily used to add logos and graphics to your print in order to match your brand and theme. Watch the video below on how to properly create your footer graphic.

Footer graphic specs:
640px by 320px
Under 100kb size
JPG, JPEG, or PNG File type
Download footer graphic template
How to use the footer graphic template
You have the choice to either SHOW or HIDE social details such as the user's profile photo, username, and text comments. The examples below show the three options for your print artwork layout.
If you plan to SHOW the social details, keep the design within the slanted lines of the guide layer. Design the background to the edges of the template, behind the slanted lines.

For example: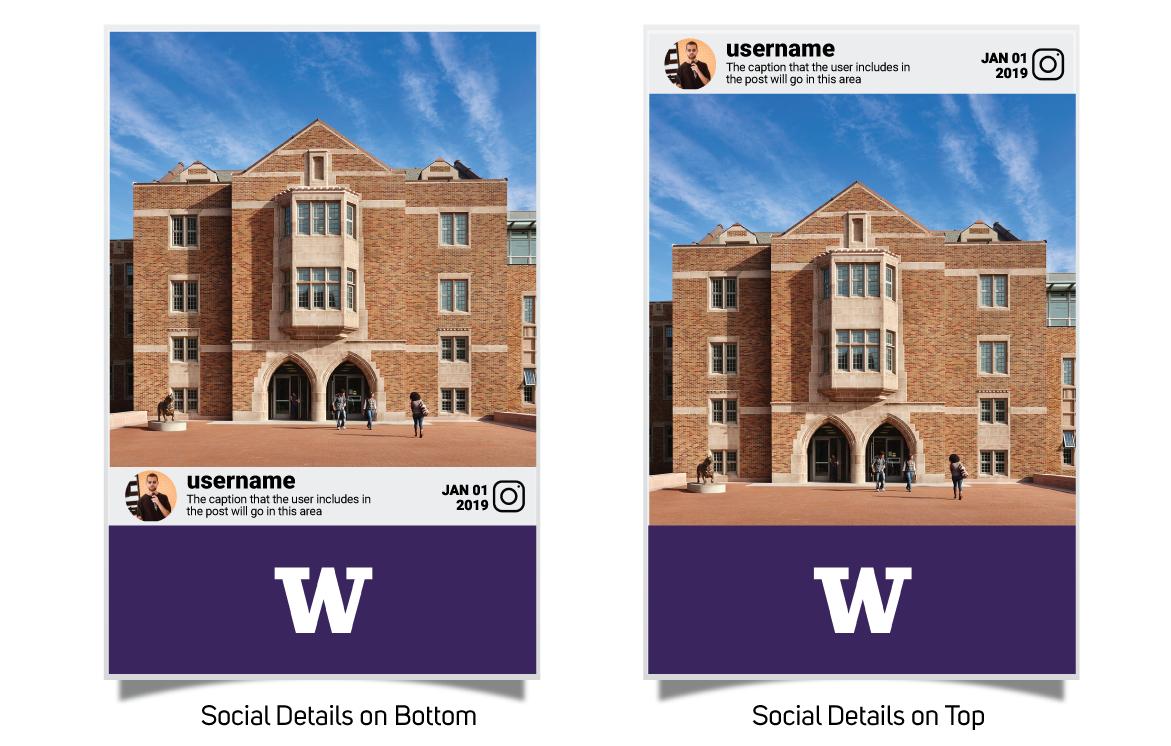 If you plan to HIDE the social details completely, you are welcome to design in the full artwork space and can disregard the guides layer in the template file.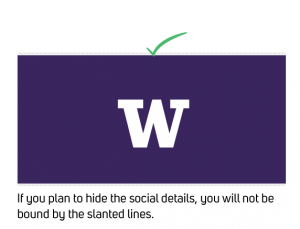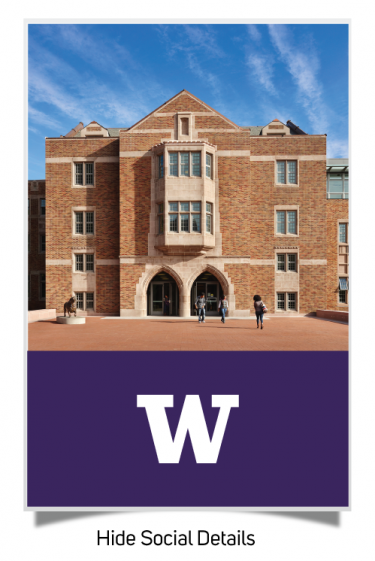 Saving and exporting your file
Save your footer graphic file by going to File > Export > Save for Web (Legacy). Save as a jpeg at 60%-80% to keep the file size below 100kb. Double check to make sure that the artwork is indeed at 640px by 320px.
Step 3: Submit the artwork and social information
AFTER you have received your HUB EMS reservation confirmation AND created your footer graphic, submit your artwork and social information. If you plan to use one of our premade UW templates, use the form to select the template. You will receive an email confirmation once your artwork is approved and uploaded.
Submit Photoboxx Printer Artwork and Social Information
Step 4: Set up your Photoboxx account
In order to curate content for printing with the hashtag printer, you'll need to set up a Photoboxx account – a cloud-based software that communicates with social networks and assists with printing.
Check for an email invite to create a Photoboxx account. – You will receive an email invite to create a Photoboxx account. If you don't receive an email invite, please email hubads@uw.edu.
Setup your personal profile on Photoboxx – Once you click to set up a profile, you will be directed to setup your Photoboxx account. You will be asked to provide your email, first name, last name, and a password
Download the Photoboxx app (optional) – Download the app from the App Store or Google Play for mobile access to manage your event.
Step 5: Manage your event
During the event
When your event starts, log into the Photoboxx website or app and select your event from the dashboard to see your event/photos.
Photos will show up on this page within 30-60 seconds of attendees uploading/posting.
Photos will be sent to print within 30-60 seconds of showing up on this page.
From this page, you can search for users, click on posts, and reprint images. If you are using the mobile app, you can upload or take pictures to your event, which will be sent to print.
Best practices
Encourage social media engagement – Promote your hashtags before and during the event and let your attendees know they'll receive a free print!
Instructional signage – Let your attendees know exactly how to upload or properly tag photos with print or digital signage.
Create a photo-worthy experience – Photo booths with backdrops, props can draw a crowd and encourage photo-ops.
Don't leave the printer unattended – Find an outgoing person/team who can encourage attendees to snap a few photos and troubleshoot any issues they have with uploading, posting, or printing.
Troubleshooting
Is the post showing up on the Photoboxx website/app?

YES – Move to 2
NO – Check the following if you're using social media mode:

Spelled Correctly? Make sure the hashtag is spelled correctly.
Private Profile? Check to make sure the user's profile is NOT private
Old Post? Check to make sure it is a brand new post (not an old post that was just tagged)

The post is showing up on the Photoboxx website/app, but it's not printing.

Call the HUB Information Desk for event support at 206.543.8191.
Updated: May 15, 2019